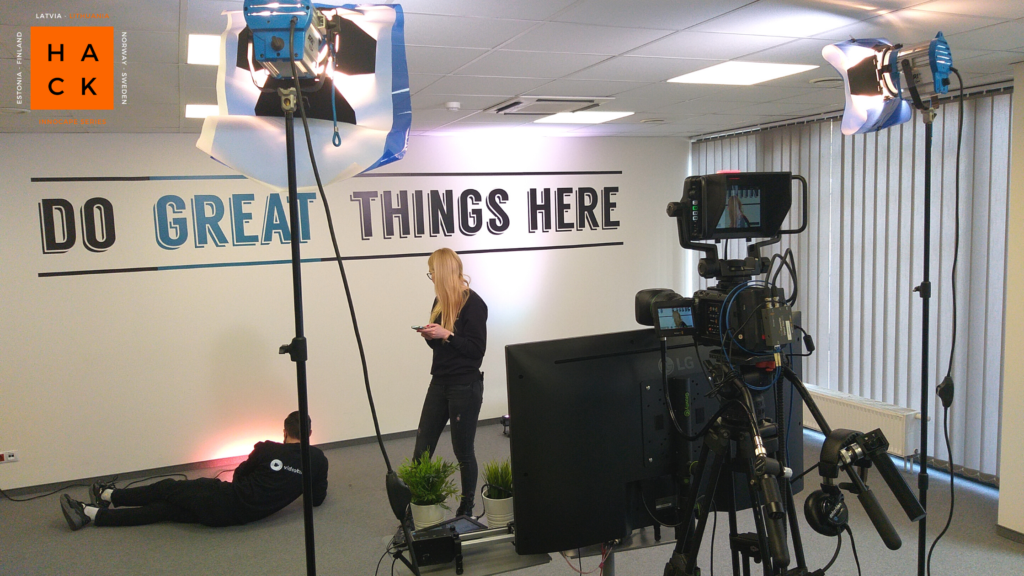 The three-day industrial digitalisation hackathon ended with the Hack4Industry 5.0 pitching event. 11 teams offered their solutions and prototypes to meet the challenges of the industry, of which as many as 5 completed this intense marathon by taking the awards.
The initiative organized by Sunrise Valley Science and Technology Park, Sunrise Valley Digital Innovation Hub and Science, Innovation and Technology Agency offered participants 16 challenges that Lithuanian industrial companies are facing today. Part of the teams chose solutions to the latter problems in order to meet the realistic expectations of manufacturing companies, while other participants have developed prototypes based on their own identified difficulties in different sectors.
"Hack4Industry 5.0 is the first hackathon specifically dedicated for the industry and the solutions they require. Previously, we have been organising initiatives and pre-accelerators for sustainable, green or smart ideas to promote and develop in Vilnius. It is fun that this time we had the opportunity to contribute to the digitalization of the country's industry, proposing them how to overcome their challenges. I am glad that we have received interest both from the country's industrialists who have shared their challenges, and from participants who were determined to solve challenges in the specific, really knowledge and skills-intensive sectors, "said Laima Kaušpadienė, the Director of Sunrise Valley Science and Technology Park and jury member of the hackathon.
Leading solutions –  for the medical sector
The solutions and prototypes of all eleven teams were evaluated by 4 jury members, namely: Laima Kaušpadienė – Director of Sunrise Valley Science and Technology Park, Erika Tauraitė-Kawai – Expert at Science, Innovation and Technology Agency, Gintaras Vilda – Director of Manufacturing Innovation Valley and Arminas Kildišis –  Member of Lithuanian Business Angels Network (LitBAN). When evaluating team decisions, special attention was paid to the innovativeness, market potential, stage of the prototype and the pitch of the idea.
The NeuroEna team, which has offered a painless and non-invasive solution for people suffering from involuntary movements – the NeuroEna suit, won the €1,000 prize (€500 in cash and €500 for business consulting services).  Prize was established by Sunrise Valley Science and Technology Park. This special suit automatically detects involuntary movements, suppresses them and, thus, allows people to participate in various activities without hindrance. Three types of sensors help detecting such movements, and artificial intelligence technology transmits the collected information to a special controller, which processes it and sends specific electrical pulses to evoke the desired response.
According to team members, people with cerebral palsy, Huntington's chorea, Parkinson's and other diseases suffer from involuntary movements. "More than 15 thousand people suffer from cerebral palsy in Lithuania alone, and there are about 20 millions of them in the world. The numbers are really high, but the current solutions offer treatment with Tetrabenazine which is expensive and can cause depression or suicidal thoughts, high-risk interventional procedures and other ineffective alternatives, " – the team representative said during the pitch.
The Antimaterialis team has pitched a prototype – a positron emission tomography (PET) data analysis system, which was recognised as the most patentable hackaton solution. The team proposed a solution that allows obtaining the data during the PET scan to be transferred to a server, where it is processed and analysed using deep learning methods. This would make it possible to detect, for example, Alzheimer's disease at an early stage, and to facilitate and speed up the work for radiologists.
Antimaterialis received a prize of €1,000 – €500 in cash and the same value for patent consulting services. The prize was established by Metida, a law firm that advises on intellectual property issues.
Follow-up solutions were targeting advanced industries
The 100 hour of consulting, provided by experts in the Manufacturing Innovation Valley, was divided equally between three teams: Iamus, Energy Advice and Yantrik.
Iamus members have taken on the challenge Lithuanian Railways are facing. The team proposed an IoT solution to help the company to collects large amounts of data from each train journey on a daily basis, transfer that data to the cloud as soon as possible and analyse it in real time.
Energy Advice has provided a solution to reduce the total waste of production – from unnecessary resources or raw materials to the waste of time. The team introduced the EA-SAS Digital Twin solution, a service that collects data on production processes, analyses them and provides recommendations for control and process improvement.
Yantrik team has proposed a solution to keep track of your pet's eating habits and other important activities in your pet's daily routine. A special food container and a mobile application will allow you to follow the dog's routine, notice unwanted changes more quickly and thus ensure better health of the pet.
Hack4Industry 5.0 is organized as part of the international InnoCAPE project activities. Project is aiming to increase the capacity of digital innovation hubs in the Baltic Sea Region.